Puppies For Sale
Dutch Shepherd Litter
Male Dutch Shepherd Puppy For Sale!
See Puppy Pictures in our Gallery!
Havoc X Nikki Summer 2016 Breeding
Pregnancy Confirmed!!  Puppies Born July 5th!
Sale Price is $1200 plus 6.875% MN Sales Tax ($1283.00)
Deposit of $250.00 to hold your puppy!  Non-Refundable.
We accept Cash, Check or Bank Transfer to Wells Fargo.
Nikki (BRN: 26236)
In training for SAR
Father: Max (BRN:17151) PH1  (Sire is Rocky, from Robbie and Tommy)
Mother: Senna (BRN:16482) PH1
Hips:  Normal   Elbows:  Normal

Havoc PH1 Met Lof (with Honors)
BRN 24917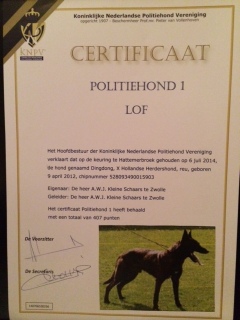 Click on this link for Video of Havoc (Ding Dong)
We are excited to announce that we have purchased Havoc PH1 with Honors for our breeding program here at Emerald Wolf K9! He was imported from Holland where he completed the KNPV program with a score of 407 out of 435.  He is a great addition to Emerald Wolf K9 and we are so happy to include him in our pack!
(click on zoeken and put in his BRN# 24917)
DOB:  9/4/2012
Hips Excellent and Elbows Normal
Sire is Boelie BRN 11228
Boelie is a son of Arko, PH1, owned by Mike Suttle, WV.
Dam is Demi BRN 19259
Demi is the daughter of Peco Seegers, PH1.  Granddaughter of Rudy Seegers, PHII
________________________________________________________________________________
Diego:  SOLD
 



Fury and Nikki
  Sale Price is $1500 plus 6.875% MN Sales Tax
Fury is a Black Malinois and Nikki is a Dutch Shepherd!
Breeding done in the Netherlands, we brought Nikki back with us from our recent trip there!

 
Fury (BRN: 23816)

Owner: P. van Zundert
Handler: S. Wahlbrinck
From the combination Blek x Sieta!
Hips:  Normal    Elbows:  Normal
Blek:  BRN  20841, PH1, KNPV Search and 3rd Basic
Sieta:  BRN 20449, PH1, PH2, Obj. Guard
x
Nikki (BRN: 26236)
In training for SAR
Father: Max (BRN:17151) PH1  (Sire is Rocky, from Robbie and Tommy)
Mother: Senna (BRN:16482) PH1
Hips:  Normal   Elbows:  Normal
Fury:   Black Malinois

Nikki:  Dutch Shepherd
Training in Search and Rescue
Hips:  Excellent, Elbows:  Normal

_________________________________________________________________________________