Puppies For Sale
Our next breeding is this Fall.
German Shepherd Litter between Erika and Kovu!
This will be the second breeding between Erika and Kovu and we are expecting an exceptional litter for working dogs!  The last litter produced 2 Law Enforcement K9′s and 3 working dogs!
Our next Dutch Shepherd Litter will be in the Spring of 2015!
Dutch Shepherd Puppies!
Land of Oz Zeva and Vandalia Timo
Puppies Born October 12th, 2013
651-260-2260

Zeva and Pups on December 18th at 9.5 Weeks Old

5-6 Weeks Old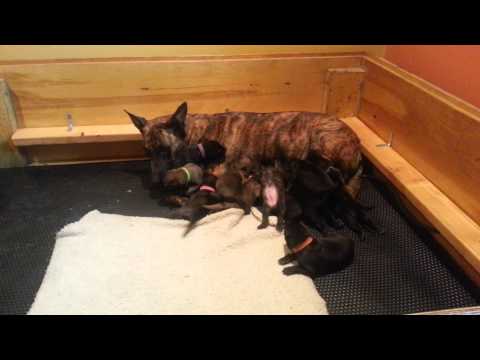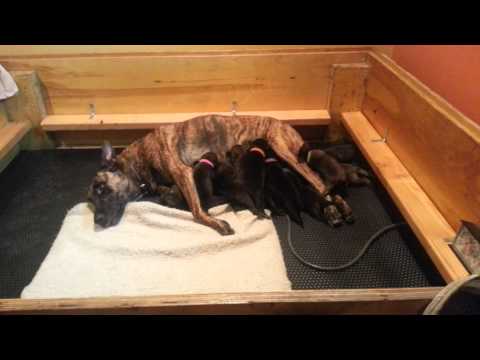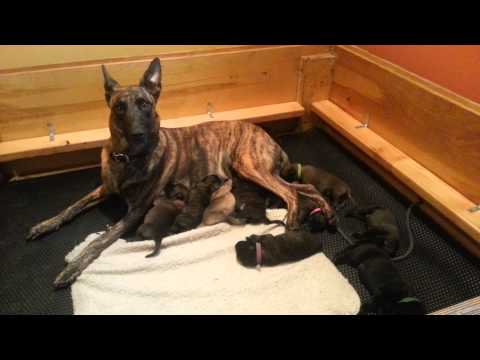 ZEVA
Zeva is out of Land of Oz Jett, one of the most renowned working bloodlines in not only the United States, but all over the world! Luna is a daughter to Tommy, grand-daughter to Rocky Van Leeuwen. Her pedigree is lined with multiple first class KNPV K9′s! The strong drives and sound temperaments that are passed on from Jett makes his progeny unbelievable to work!
UKC  P739-508
Hips OFA – Excellent
Elbows OFA – Normal
Vandalia Timo

SchH III UKC Reg.(Rudie Pegge, PH1 X Tosca II from Kamphuis Kennel).
UKC P633-347
DOB: 6-2-2004
Timo is a large black brindle dutch shepherd that we are thrilled to have to cross onto our Jett lines. He is a social handler oriented powerhouse, producing the next generation of dutch shepherds with high ball and hunt drive combined with intense fight drive in a dog that is a joy to handle. Timo is a Holland Import from the KNPV program, he was bred by Gerben Kamphuis and is a combination of the top KNPV lines. Timo's Pedigree
Elbows: Normal
Hips: Excellent
Timo below headed for the long bite!
We are accepting deposits now for this litter. Deposits are $250. non-refundable.
Puppies are reasonably priced at $1000.00
_____________________________________________________
Kovu and Erika Puppies Born March 17, 2013!
ALL SOLD
1 Sable Male 7 Months Old
AMMO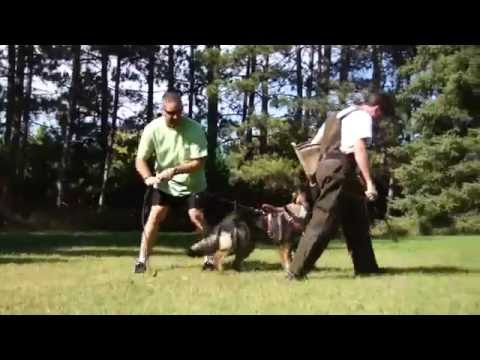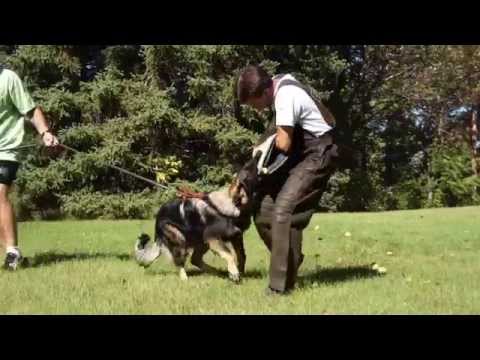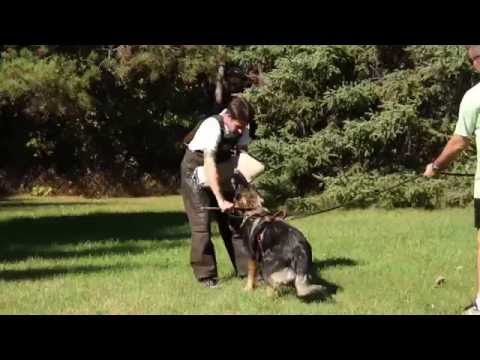 Pre-lim Hip X-rays were excellent per our vet at Inver Grove Animal Hospital
This Male has very high drive and is highly suitable for realistic working fields i.e. Single Purpose Patrol Apprehension, Dual Purpose Patrol/Narcotic, SAR, Personal Protection, Executive Protection, PSA, IPO, MondioRing, etc.

These puppies have been all over the place! In vehicles for rides, to many parks to run over all the equipment (swinging bridges), through agility equipment, at training (for our other dogs), around lots of kids, over many floor surfaces, into dark rooms, playing in the rain, hearing thunder, other dogs, etc….We are trying to expose them to as much as we can and so far, they are not phased at all!
Dam: Erika od Roubenky

Sire: Kovu Van Den Heuvel

Pricing:
Ammo is reasonably priced at $2000.
Ammo has been started on Obedience training, Bite work and Tracking.  He has a fabulous bite!  Has great ball drive and loves to play frisbee. We also tried him on Dutch Boxes doing a drug search and he did extremely well! He would be a great Police K9 as he loves to be with someone all day! Would not do well in an outdoor kennel, as he loves to be with his people.
Non-Refundable Deposit is $500.
We would ask that you fill out a puppy application and let us review it and speak with you before you send a deposit. We will Ship puppies to your location, you pay shipping and crate expenses.
Our Puppies come with the following:

AKC Papers
Health and hip guarantee

Call us at 651-260-2260!