Havoc PH1 Met Lof (with Honors)  
BRN 24917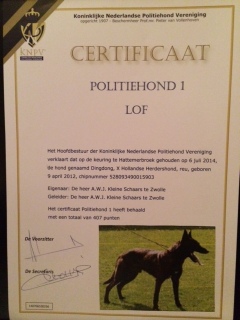 Click on this link for Video of Havoc (Ding Dong)
We are excited to announce that we have purchased Havoc PH1 with Honors for our breeding program here at Emerald Wolf K9!  He was imported from Holland where he completed the KNPV program with a score of 407 out of 435.  He is a great addition to Emerald Wolf K9 and we are so happy to include him in our pack!  
Havoc Pedigree  click on zeoken and put in his BRN# 24917
DOB:  9/4/2012
Hips Excellent and Elbows Normal
Sire is Boelie BRN 11228
Boelie is a son of Arko, PH1, owned by Mike Suttle, WV.
Dam is Demi BRN 19259
Demi is the daughter of Peco Seegers, PH1.  Granddaughter of Rudy Seegers, PH2
Available for Stud to approved females